Upcoming Events
Press / News / Articles
Sun protection: formulation as easy as winking
The formulation of sun protection products can become a difficult job for the formulator. Selecting the right UV filter combination to achieve broad spectrum protection, adjusting the use levels of each UV filter to reach the desired SPF (sun protection factor) while complying with all regulatory demands and providing sufficient stability to the formulation are only a few of the challenges. And these are just the requirements for providing a sun care product, doing what it should do - protect the skin from UV radiation. The skin-feel and the textures for different application types have not yet been taken into consideration.
more
How can we keep the Blue Planet really blue?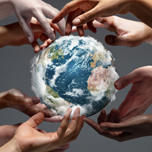 Water saving is a hot topic for consumers and industries. As raw materials supplier, we can have a huge impact!
more
Hot Topics