Press / News / Articles
Caring and strengthening: the global skin moisturization strategy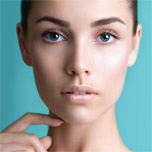 Moisturization is a very well-known and essential need for skin care. Nowadays, classic hydration strategies are supplemented with new approaches to support the skin in achieving its moisturizing mechanisms. In this article, we present an overall strategy based on two pillars: caring and strengthening the skin. Thereby, we will elucidate the roles of Natural Moisturizing Factors, hyaluronic acid, ceramides and filaggrin within this overarching strategy on the basis of four specific products from the Symrise portfolio acting on these essential components: Hydroviton® PLUS, SymGlucan®, SymRepair® 100 and SymReboot™ L19.
This article has been published in SOFW 06-2021.
more
Sun protection: formulation as easy as winking
The formulation of sun protection products can become a difficult job for the formulator. Selecting the right UV filter combination to achieve broad spectrum protection, adjusting the use levels of each UV filter to reach the desired SPF (sun protection factor) while complying with all regulatory demands and providing sufficient stability to the formulation are only a few of the challenges. And these are just the requirements for providing a sun care product, doing what it should do - protect the skin from UV radiation. The skin-feel and the textures for different application types have not yet been taken into consideration.
more
Hot Topics